What is 100% Human at Work?
We believe the time has come for business to start thinking of people as human beings and not as resources. Moving away from maximizing profits and profitability to focus on how we can help people achieve their highest potential and purpose – which will naturally positively impact the bottom line.
With this in mind and using the UN Principles for Business and Human Rights as a basic standard, The B Team and Virgin Unite launched the 100% Human at Work Initiative, with the aim of catalysing a 100% Human future of work that serves humanity and the planet. We lead conversation, encourage collaboration and innovation, set the benchmark and facilitate learning.
As part of the initiative we have brought together a network of over 450 organisations around the world who are shaping a vision for a better future of work, testing ideas and scaling action. Identified by our network members, our five core values are key to our work: respect, equality, growth, belonging and purpose.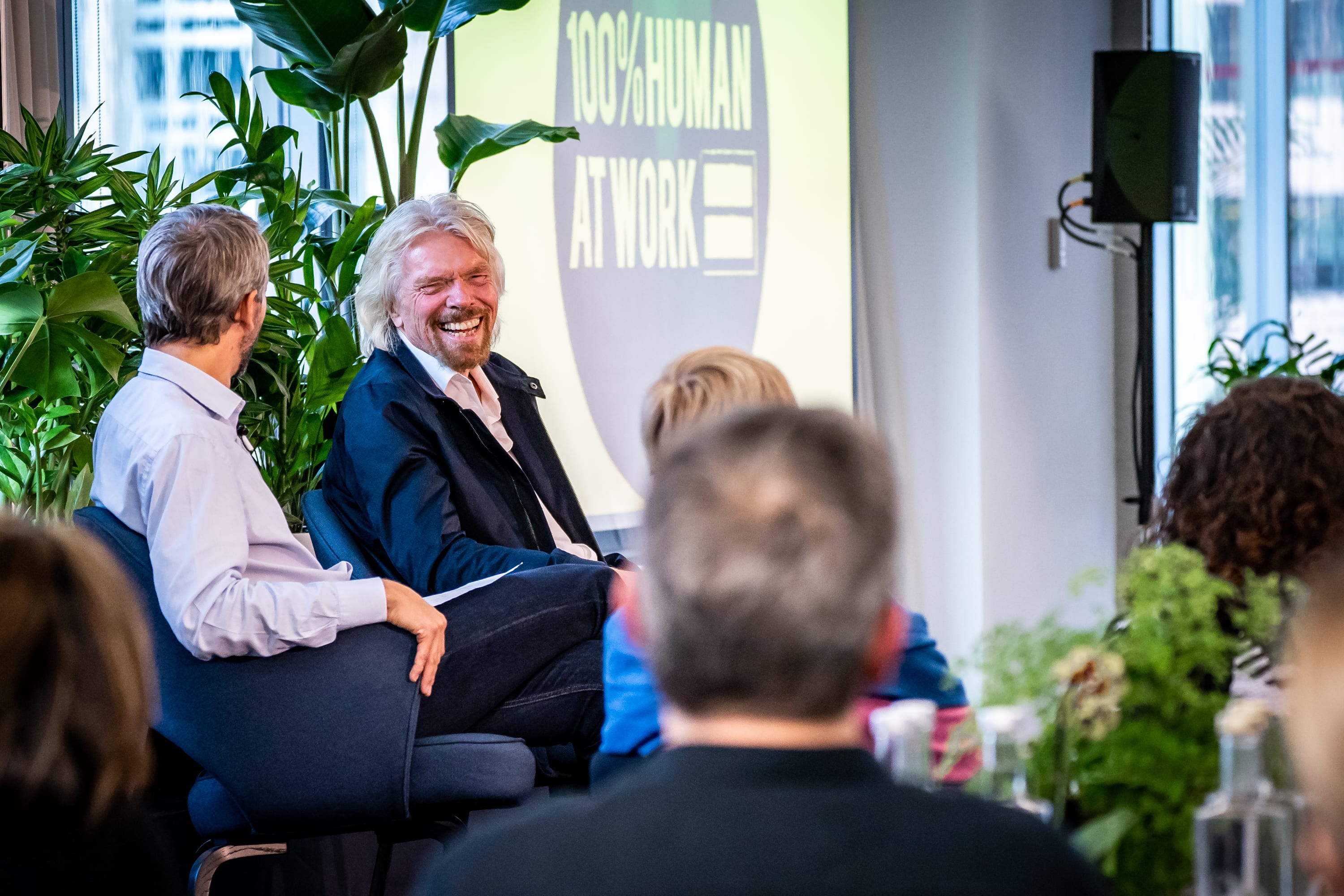 What has 100% Human at Work achieved so far?
The 100% Human at Work Network is thriving and continually growing. There are now annual gatherings in London, New York and Sydney, for members to meet and discuss ideas and collaborations, and we have also visited Kenya and South Africa. Network members are actively experimenting with new ways of working and testing solutions to a variety of challenges – sharing learnings that will inspire further action is key to our approach, and we have produced a number of Experiments collections.
We have also produced several other publications. Our Reimagining Pathways to Employment Toolkit looks at the future of recruitment in the digital age, the skills people will be looking for and how to ensure workforces are inclusive and diverse. Working with partners, we have produced two diversity reports, The Diversity Paradox and Diversity: Bringing the Business Case to Life, as well as 'New Ways of Working' and 'Refugees & Migrants – An Opportunity for Humanity'.
In 2019 we launched the Freedom to Love campaign, in partnership with Virgin, Open for Business and a group of B Team leaders, and we have worked for a number of years with the Business Refugee Action Network (BRAN), which was founded as a shared initiative in 2018 by Ben & Jerry's, Virgin, the Tent Partnership for Refugees, The B Team and the International Rescue Committee.
How is Virgin Unite involved?
Virgin Unite has supported the resourcing of the initiative, the building of the network, engagement in thought leadership and engagement with Virgin businesses. Jean Oelwang, President of Virgin Unite and B Team Leader, is the senior lead of 100% Human at Work, and Virgin Unite also provides a 100% Human at Work Director and Manager.
---
Further information: